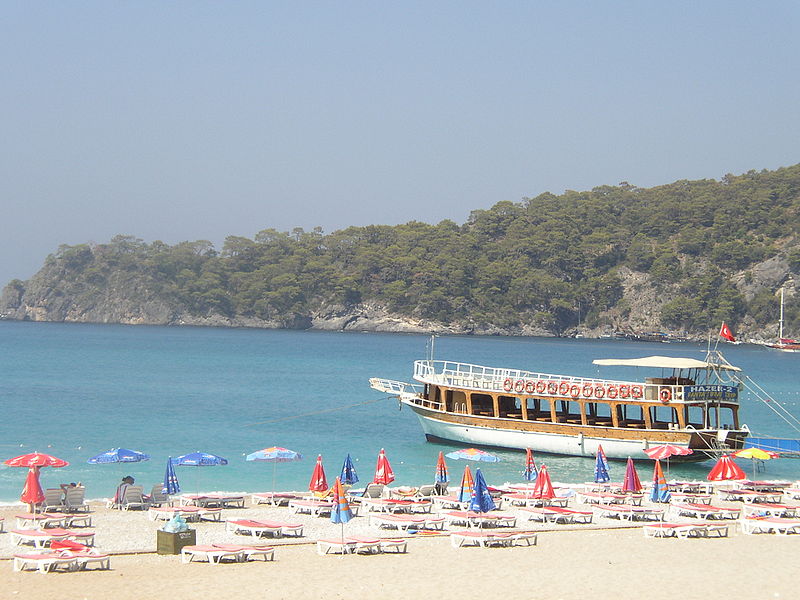 Oludeniz is a small, but popular beach resort town just minutes from Fethiye. There is a lot to see and things to do in Oludeniz.
Blue Lagoon
The Blue Lagoon is the most iconic part of Oludeniz, and the main reason tourists flock there in the summer months. This distinct peninsula juts out from the public beach of Oludeniz and has been turned into a national park, as it is a Blue Flag beach. This means it meets specific cleanliness and water quality criteria, and the Turkish government works to maintain the beach's high caliber. Entering this part of the beach costs a small fee, and if you want to lounge on its sandy beaches you will have to pay extra. The facilities, beach, and water are exceptionally clean, and overcrowding is not an issue due to the entrance fee.
Accommodations
The California Hotel Apart in Oludeniz is owned and operated by a family and has been up and running for over 10 years. With 11 rooms and 8 apartments, the California Hotel Apart is convenient whether you are traveling alone or with a few people, and offers accommodations for beginning as low as 9 Euros per night. Breakfast is free at the hotel's restaurant, and the bar is open throughout the day. The rooms and apartments come with air conditioning, hot water, and more, and there are games and entertainment on the hotel grounds.
Kayakoy
Kayakoy is a mountainside town that was inhabited by Greek-speaking residents until the early 20th century. Now a ghost town, it became one in the post-World War One population exchange agreement between Greece and Turkey in 1923. This was when the majority of the population of Kayakoy abandoned the town. Kayakoy consists of abandoned Greek-style homes and buildings that are mostly run down and damaged. Some homes have been, and continue to be, restored.
Lycian Way
The Mugla province of Turkey, which includes cities such as Fethiye, Bodrum, and Oludeniz, and Antalya province, made up the ancient federation of cities called Lycia, which later became part of the Roman Empire. The Lycian Way is a hiker's dream in the region. About 500 kilometers in length, it covers both provinces mentioned above. The entire route is not for beginners, as the path follows the ups and downs of the mountains that run along the coastline. Hiking the Lycian Way is a good way to snap unique photos of the place where the Mediterranean meets the Aegean, and to get those snapshots of the Blue Lagoon from up above (if you don't want to paraglide over it instead).