Kemer is a resort town in the Antalya province close to many of the Antalya's equally beautiful beaches. While Kemer is one of the best beaches in Turkey and popular with local tourists, it still has a quiet, relaxing feel. The beaches of Kemer aren't typically overcrowded outside of the month of August where the southwest corner of Turkey is usually very active with visitors from all over the world. What makes Kemer so unique is that it has a lot of variety to offer and is geographically distinct compared to even some of the closer beaches nearby. Kemer is a gorgeous blend of beach, mountains, and pine forests with a number of inlets to sunbathe and relax on.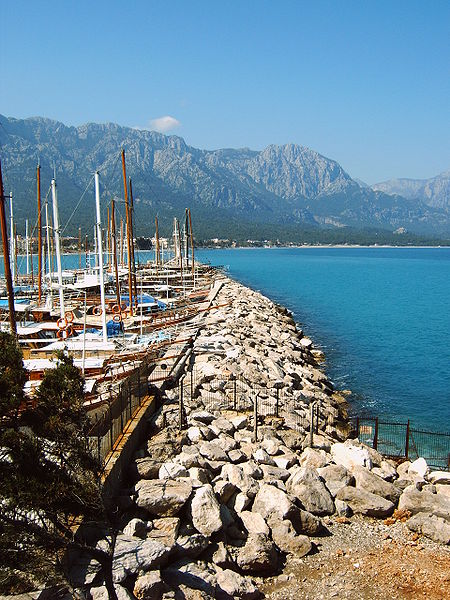 You can also find a mix of sand and pebble beaches around Kemer to pick and choose from based on your personal preference. There are however more stone than sand beaches but with so many picturesque places to choose from it's not likely to change how you feel about Kemer. Many of the forest trees in come up close to the shores of the beach, providing natural place for shade during the hottest parts of the day. The tree branches also tend to hang low in an umbrella shape creating a nice atmosphere of privacy and your own little piece of paradise in Kemer.
Most people who travel to Kemer are from western Europe and Russia, the most common bookings being package vacation deals. Kemer has a large concentration of the hotels in the Antalya area so many people end up staying there. The resorts are luxurious and every effort is made to provide everything in an all-inclusive price. You can also try booking your accommodations separately and often will find many summer homes for rent by locals and foreigners who own property in Kemer.
The stores and shops as well as a few of the bigger restaurants in Kemer, in addition to the Turkish Lira (TL), also accept Euros. That saves tourists a bit of money from having to convert any of their bills and it helps the local merchants as well. The Euro is a much more stable currency and shop owners encourage the use of the Euro by keeping prices lower than their equivalent in TL. This practice of course varies but is one you should keep in mind if you're traveling from or through Europe before heading to Kemer or many of the other best beaches in Turkey.
To learn about the rich ancient history of this very old town you can book a relatively inexpensive trip to some of the nearby historical sites. Places like the ancient Greek city of Olympos are not to be missed. They are well preserved and the historical sites around Kemer tend to be less frequented than other more famous places in Turkey like Ephesus. Trips can be made by local bus in less than an hour and cost hardly anything. Entry into most of the ancient cities is also free.